Events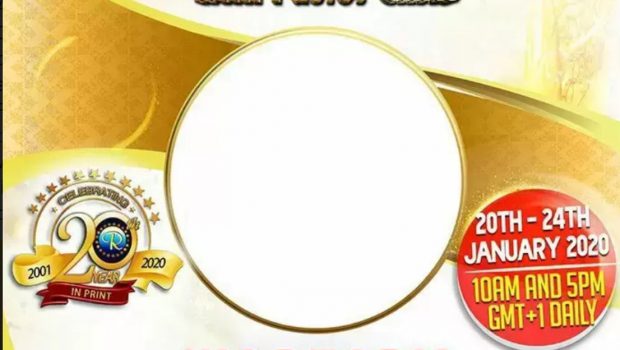 Published on January 13th, 2020 | by Walter Smith
0
Be Part of The Global Rhapathon
The world needs five days of glory. It has been a few days since Pastor Chris Oyakhilome prophesized that there will be a harvest of souls. He also explained that it will happen very quickly. During the Rhapathon with Pastor Chris, there will be impartations as the world will wake up to reading the 'Rhapsody of Realities' in 2,010 languages. In this very month, from January 20th-24th, we have a chance to hear its glory.
In 2018 1 billion copies of this devotional were distributed. That was the 'Year of Supernatural'. That year the messenger was available in 1000 languages. So many lives were transformed when reading this daily source of inspiration. Now in 2020, it is available in 2010 languages and counting. It is going to be even more impactful. It is going to reach further as more people can hear the message of the Gospel in a language that is relevant to them.
Why is it called the Messenger Angel?
When you read the 'Rhapsody of Realities' you become part of a global phenomenon. When you understand what God can do in your life you are propelled forward to receive greatness. The 'Rhapsody of Realities' is known affectionately as the 'Messenger Angel' delivering reassuring answers to questions we all have.
Pastor Chris has explained that every copy that goes out into the world is under the charge of an angel of God. When people receive a copy of the Rhapsody there is an angel at work. The countless testimonies to life-changing miracles that happen through the 'Rhapsody of Realities' make the impossible possible.
The Bible that speaks to generations
The number one book in the world is the Bible. Pastor Chris is a publication that 'projects the Bible.' It takes the Bible out into the world. This illuminating explanation has to go to all corners of the world. The Bible needs to be 'preached and taught' they know how the Kingdom of God functions. You need to announce the word of God.
The global Rhapathon is a celebration of 'Rhapsody of Realities' 20th Year in Print and this is something to shout about. Join in this amazing celebration from 20th-24th January. The event will be broadcast on all LoveWorld networks and Rhapsody platforms daily.
In order to prepare yourself before the Rhapathon, you should decide whether you will be watching at home or in a public meeting place. Make sure your family and friends network has a chance to be part of this amazing experience. You want to hear about the feats that have been accomplished.
How to be a part of the Rhapathon
It would be really inspiring if everyone could take a short video and share their own personal rhapsody story on KingsChat using the hashtag #rhapsodystory. Then the world can see just how far the Messenger Angel has traveled when you upload it via the following link:- testimony.rhapsodyofrealities.org.  If you say it, sing it or even poem it will be a powerful testimony to the glorious majesty of this publication. Let the challenge begin. Be ready for the Global Rhapathon with Pastor Chris on  20th -24th January 2020. Tune into https://www.rhapsodyofrealities.org/ https://reoninternational.org/ at 10 am and 5 pm (GMT+1) every day.