Events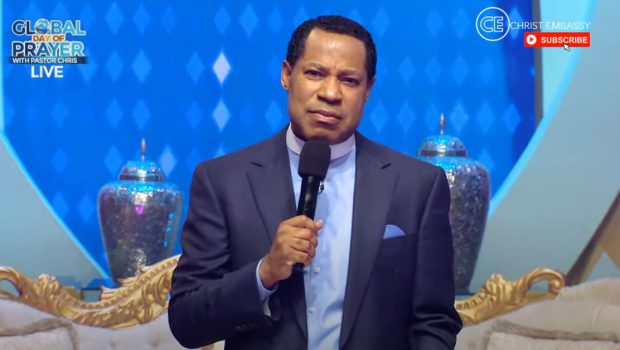 Published on June 28th, 2020 | by Gabriele Adbbe
0
After 24 hours of praying: Pastor Chris announces new prayer week
Before this weekend's Global Day of Prayer, Pastor Chris Oyakhilome said that it would be an even greater event than his previous prayer days, and he indeed kept his promise.
"Today will be even more significant. We will begin, pray now into tomorrow, Saturday. We call it a day of prayer. The first one was to initiate what we wanted to do, and now it is a whole day – 24 hours," the Pastor said when he presented the Global Day of Prayer's schedule on Friday, June 26th.
The 24-hour-long service kicked off with an extensive program. Pastor Chris, as well as other ministers of the gospel, preached for hours, and Pastor Benny Hinn also did a half-hour sermon live from California.
Additionally, Chris Oyakhilome answered questions from Christ Embassy members, spoke in tongues, presented testimonies and read Bible verses.
"Study the words of Jesus and understand truth," he said.
Prayer is not a sign of weakness
Like always, Pastor Chris Oyakhilome had guests in his Lagos studio, and the world-renowned Sinach came by to do several performances.
The LoveWorld leader also seized the opportunity to stress the importance of praying.
"The reason why He invited us to pray is because He intended to answer. Jesus taught us how to pray. From the scriptures, we learn about prayer. Prayer by the prophets, prayer by the apostles of Jesus. Prayer is not a sign of weakness. Prayer is our faith talking to God," he stated.
Pastor Chris Oyakhilome will be praying a lot more during the coming week, as a new phase of "Your LoveWorld with Pastor Chris" will begin on Wednesday, July 1st and end on Sunday, July 5th.
The final day of this new prayer week collides with the Pastor's monthly Global Communion Sunday Service, where he will present the theme of July.
All of the services will be available for live streaming on all LoveWorld networks.
Help in tough times
The COVID-19 pandemic was also a topic of discussion during the Global Day of Prayer. Pastor Chris Oyakhilome urged world leaders to start acting on their countries' interests.
While the Coronavirus has terrorized people in all nations, Pastor Chris Oyakhilome has done what he can to help people get through this tough time.
Not only has he been praying against the virus for four months, he has also donated food packages and books to people in need.
His newest initiative is to help ministers in dire need, and so far, more than 6000 pastors in 16 countries have received help.
Those countries include Nigeria, the UK and Uganda.