Events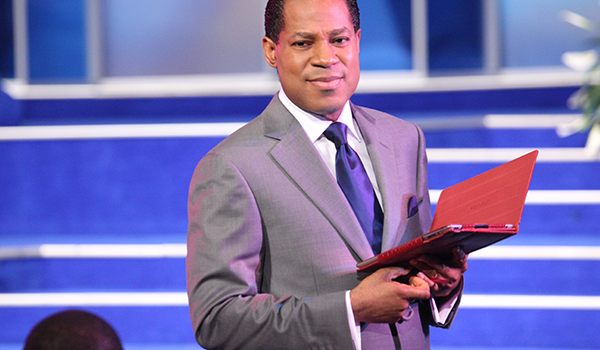 Published on November 1st, 2021 | by Gabriele Adbbe
0
6.5 billion people join Pastor Chris' Healing Streams Live Healing Services
Pastor Chris Oyakhilome and the Healing School's Healing Streams Live Healing Services once again broke records as the third session of the year was broadcasted from Friday, October 29th to Sunday, October 31st.
According to the LoveWorld Ministry, 6.5 billion people from all over the world tuned in to participate in the healing session.
Testimonies have already come in from countries such as the United Kingdom, Brazil and Canada, and many more are expected in the coming days.
Believers have, for instance, been healed from pain in different places of their bodies, being deaf and being unable to walk.
"All that pain is departing now. In the name of Jesus, I command the demons of infirmity to come out, you devils of darkness. Everywhere that they can hear the sound of my voice, I demand you to come out of their bodies right now in the name of Jesus Christ," Pastor Chris Oyakhilome said as he was healing people during the Healing Streams Live Healing Services.
"Come out of them in Jesus' name! And return to them no more. Let them go. I command the migraine headaches to cease, the diabetes to go. Just out your hand wherever you want that miracle," he added.
Loss of memory and ability to walk
Pastor Chris Oyakhilome's last Healing Streams Live Healing Services ran in July, where 5 billion people tuned in.
One of them was Chinese Mike Huang, who watched the session with his mother.
Mike Huang's mother had signed him up for the healing service because he had been suffering from multiple diagnoses for years.
In 2016, doctors found a tumor in his brain after he had experienced recurrent nausea, walking disabilities and trouble with controlling his movements.
The tumor was successfully removed, but the surgery left Mike Huang with new problems to deal with.
"My left eye had double vision, I had lost most of my memories, and my movements were not coordinated," he said.
Mike Huang had gotten a brain injury during the surgery.
Pastor Chris changes lives
A rehabilitation program was put together for Mike Huang, but in 2018, he was hit by another tragedy as he needed to get his hip replaced after an accident.
As a result of that, Mike Huang was forced to use a walker to get by.
When his mother heard about the Healing Streams Live Healing Services with Pastor Chris Oyakhilome earlier this year, she immediately signed her son up for it.
"We believed this was our time, so we were prepared. We did a lot of praying and built our faith. We were ready for the Healing Streams," she stated.
It did not take long before Mike Huang felt that things were starting to change in his body.
"During the healing services, I was healed from head to toe. While I was worshiping, I felt the power of the Holy Spirit in my spine and on the scars on my chest and my leg. Then, I felt an itching sensation on my scalp, followed by a hot sensation in my head," he expounded.
Mike Huang and his mother followed Pastor Chris Oyakhilome's instructions, so the mother placed one hand on her tv screen and the other on her son.
"When Pastor Chris commanded the devil out, I felt a weight lift off from my entire back. Then, he said to do what I could not do before. I tried and found that I could sit cross-legged. I had not sat like that since I had the hip replacement surgery," he said.
Following the healing session, Mike Huang regained his memory and sight.
"Dear Pastor Chris, thank you for creating this platform for healing people all over the world," Mike Huang's mother said after the Healing Streams Live Healing Services.
New LoveWorld events added
During October's Healing Streams Live Healing Services session, Pastor Chris Oyakhilome announced the return of two popular LoveWorld events.
The "Your LoveWorld with Pastor Chris" prayer series will be back from Wednesday, November 24th to Saturday, November 27th.
"I have a lot of information for you, and it is so important that you hear what we have to share," he emphasized.
A new Global Day of Prayer has also been scheduled from Friday, December 3rd to Saturday, December 4th.
"Remember, it is so important that we pray. Never let off from prayer. So, we must pray. All of us all over the world. In fact, we should fast on the 3rd and 4th of December," Pastor Chris Oyakhilome said and continued:
"We will fast and pray because wickedness plans for the end of the year, and so, we will not give them a chance. The demons of darkness usually plan for the end of the year, but on the 3rd and 4th of December, all of us will fast and pray."