Events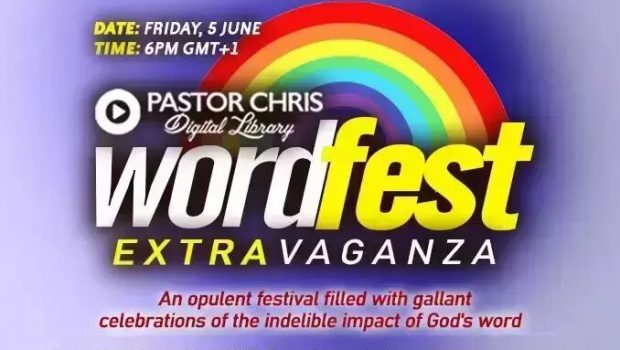 Published on June 4th, 2020 | by Gabriele Adbbe
0
WordFest gets a 24-hour live ending
For a month, LoveWorld believers have been meditating on God's Word through Pastor Chris Oyakhilome's WordFest, but it is soon coming to an end.
The online festival culminates with a 24-hour live broadcast called WordFest Extravaganza, which will commence on Friday, June 5th at 6PM GMT+1 on all LoveWorld networks. The special service will continue until Saturday, June 6th at 6 PM GMT+1.
Pastor Chris himself will appear in WordFest Extravaganza and so will some special guests. The unique broadcast will also feature testimonies, exhortations and lots of divine messages.
You can register for the event and create your own personal avatar here.
Strengthen the faith
The Christ Embassy leader, Chris Oyakhilome, initiated WordFest on May 4th in order to build up and strengthen the faith of God's people during this time of adversity that the world is going through.
Lots of people have been affected negatively by the COVID-19 crisis in one way or another, so Pastor Chris Oyakhilome decided to spread some happiness. He did not want the Coronavirus to win.
Therefore, he launched WordFest, which is a special festival of meditation on God's word.
Every day, existing and new subscribers to the Pastor Chris Digital Library can get free access to divine messages from Pastor Chris Oyakhilome through the WordFest program.
Subscribers can watch, listen to and meditate on a specifically selected message every day.
Along with the daily message comes a study guide, which simplifies the meaning of the divine words.
Testimonies from around the world
Throughout the last month, WordFest has worked miracles and people from Nigeria, the UK, South Africa and many more countries have uploaded their avatars to KingsChat and shared their testimonies.
Pictures with the theme of the day have also been shared on social media. The one for today, day 32, goes like this.
"Being led by the Spirit.
There's no Christianity without the Holy Spirit. Yielding yourself to be led and controlled by the Spirit is your guarantee of a life of limitless potentials and endless possibilities. Learn in this timeless teaching how you can maximize your potential in life and be all that God created you to be, as you allow the Holy Spirit to lift your vision and guide you in the path of greatness. This message will position you to win every day in life, as you fulfill God's dream for your life to the glory of His name."