Events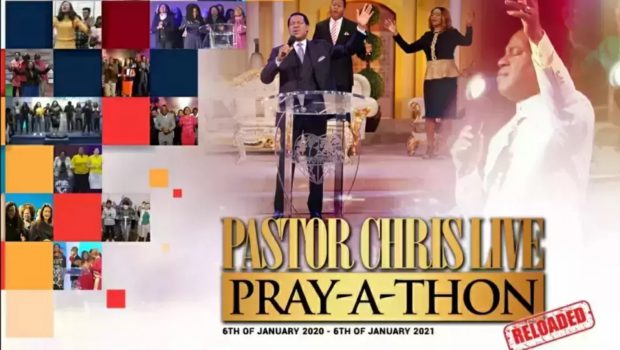 Published on January 7th, 2020 | by Walter Smith
0
The Year Long Pray-A-Thon Is The Perfect Way To Start Year Of Perfection
The event of the year will last all year. The Pray-a-Thon with Reverend Dr.  Chris Oyakhilome began on Monday, January 6th. The 24-hour nonstop prayer event is set to continue until January 6th, 2021. The world has never seen anything like this before.
In many zones across the globe, the partners of the Pastor Chris live global prayer network will take turns to pray fervently for periods of 15 minutes each day, using a rigorously designed timetable. In the words of the Man of God, "we are set to effect changes in the world through heartfelt, effectual fervent prayers."
Last year the month of June was revealed as 'the Month of Prayer' and Pastor Chris introduced the month-long Pray-A-Thon. It filled the earth with a resurrected power. As prayers and glory go up, blessings always come down.  Last year's amazing feats as recorded by the ministry were attributed to the soul-stirring and ardent prayers offered during that month. This year, the Man of God has expanded the vision to include a whole year's Pray-A-Thon.
Pastor Chris's thoughts on prayer
Jesus and the Apostles prayed. "You have to copy them the Bible says, to be imitators of God. As beloved children imitators of God copy them. How can you copy God? by copying Jesus and the Apostles." Pastor Chris has always encouraged the brethren and members of Christ Embassy to have a culture of prayer and to pray, not when we want something but to bask in the glory of prayer as Jesus did.
There is no telling the miracles that will be experienced across the LoveWorld Nation in this Year of Perfection as a result of the Pray-A-Thon with Pastor Chris. Be actively involved today and every day. This year you can take advantage of this glorious opportunity to fulfill your mission as a Christian. Follow the PastorChrisLive SuperUser on KingsChat to receive daily prayer posts sent out by Pastor Chris.
Take to KingsChat and see what is going on
There were uninterrupted moments of prayer with the spirit at Day 1 of the 21 Days of Prayer and Fasting with the Esteemed Zonal Director in Ghana. Prayer-a-Thon reloaded going is on now at CE Calgary group in Canada. They are praying in CE Massachusetts, Atlanta Group., CE Dallas, Dallas Group, CE Travis, Dallas Group and CE Killeen, Dallas Group. Join us to pray for the salvation of souls all around the world with CE Beninzone1. Also praying  CE SUVA CENTRAL leads in prayers in the ongoing Pastor Chris Live Pray-A-Thon.
The first Impact Bayelsa Online Prayer Rally (IBOPR) with the Highly Esteemed Zonal Pastor, Pastor Obi Umeasiegbu will take place at 7 pm tonight. Login and participate at: www.impactbayelsa.online  or Facebook www.facebook.com/impactbayels.
If you click on the link; http://bit.ly/prayathonlivetv . Halleluyah from Edo North and Edo Central, it is would thank the Lord for the opportunity to participate in the Global Pray-A-Thon on Thursday,9th January for our Zone.
Pray-A-Thon 2020 has started in earnest, and it's been wonderful. Prayer is rewarding. You can join the live prayer sessions on @PastorChrisLive. This year is starting like no other. Filling the world with our heartfelt prayers is our mission and we now are lead to it by the most wonderful inspiring Man of God Pastor Chris Oyakhilome.