News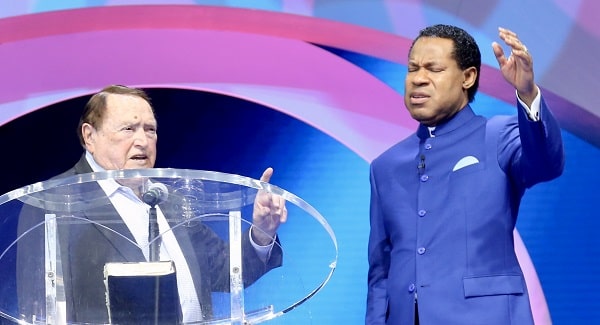 Published on July 20th, 2020 | by Alberto Krinsky
0
Pastor Chris pays tribute to late Morris Cerullo
Christians all over the world have been mourning the death of the international Pentecostal evangelist Morris Cerullo for 10 days now, as the famous preacher passed away at the age of 88 on July 10th.
For that occasion, Pastor Chris Oyakhilome recently paid tribute to the late Morris Cerullo during one of his "Your LoveWorld with Pastor Chris" daily broadcasts and on YouTube.
"Dr. Cerullo is really extraordinary in many ways. Several years ago, he was one of those ministers that I wrote the name down of. I wrote three names. It was Archbishop Benson Idahosa, Pastor Benny Hinn and Dr. Cerullo," Chris Oyakhilome said during one of his daily prayer shows.
He continued to say that he wanted to contact these three pastors and ask them questions when he was a young minister.
Years later, the Christ Embassy leader got a message saying that Morris Cerullo wanted to meet him in Nigeria. The two ministers sat down, and Pastor Chris Oyakhilome got answers to all of the questions he had been curious to ask for years.
"He was so full of compassion and love… He has gone to be with the Lord that he loved so much and preached joyfully and served all these many years," Pastor Chris Oyakhilome added.
The tribute on YouTube shows Pastor Benny Hinn talking to Pastor Morris Cerullo. You can watch the full video at the bottom of this page.
Was treated for pneumonia
The day before Morris Cerullo passed away, his family announced that he was being treated for pneumonia at a hospital in California.
"Dear Friends, we would appreciate your immediate prayers for Dr. Cerullo who is being treated for Pneumonia at the hospital. Please also pray for Theresa who has been working around the clock to assist in his care. She needs your prayers too for extra strength at this time. Thank you for all your thoughts and prayers for Morris and Theresa!" they wrote on Facebook.
It was also the family who revealed that the famous evangelist had passed away the following day.
"Today we remember the incredible life of this great man. Your legacy will live on!" they wrote on Instagram.
Morris Cerullo is survived by his wife, Theresa, his kids David and Susan, seven grandchildren and nine great-grandchildren.
Raised at orphanages
Morris Cerullo was born to an Italian father and a Russian Jewish mother in New Jersey. His parents tragically died in a car accident when Morris Cerullo was very young, so he was raised in several orphanages. The last orphanage he resided at was an Orthodox Jewish orphanage, but at the age of 14, Morris Cerullo converted to Christianity.
Two years later, he started preaching the Gospel, and the rest is history.
You can watch the full tribute with Pastor Benny Hinn and Morris Cerullo below.