Events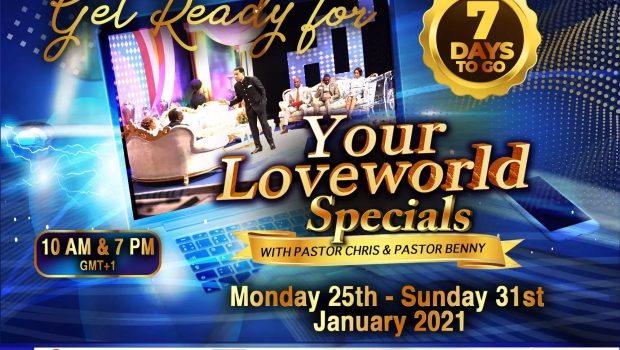 Published on January 17th, 2021 | by Alberto Krinsky
0
New phase of "Your LoveWorld Specials" starting next week
After three months without the "Your LoveWorld with Pastor Chris" specials, the popular prayer series is set to return on Monday, January 25th.
The new show is called "Your LoveWorld Specials – With Pastor Chris & Pastor Benny" and will air on all LoveWorld networks according to the schedule below.
Monday, January 25th at 7 PM GMT+1
Tuesday, January 26th to Friday, January 29th at 1 AM GMT+1 and at 7 PM GMT+1
Saturday, January 30th to Sunday, January 31t at 7 PM GMT+1
"It is our Year of Preparation and what a special time to be inspired, trained, equipped and prepared to meet our God. Get set to receive words that will set you on course for extraordinary accomplishments in this glorious Year of Preparation," the LoveWorld Nation writes on social media.
Pastor Chris takes a stance against the coronavirus
The most recent LoveWorld special with Pastor Chris Oyakhilome took place at the end of October and marked the seventh phase of the second season of the much-loved show.
Chris Oyakhilome initiated the "Your LoveWorld with Pastor Chris" shows at the beginning of April 2020. The broadcasts proved to be very popular among the Christ Embassy members, so the show has been extended over and over again.
So far, more than 80 episodes of "Your LoveWorld with Pastor Chris" have been produced.
Pastor Chris Oyakhilome introduced the prayer weeks as an extension of his first Global Day of Prayer with Pastor Benny Hinn, which took place on March 27th, 2020.
The two pastors prayed against the coronavirus that had just gotten its grip on the world at that time.
The show was a huge success, gathering three billion online viewers.
Throughout the past year, Pastor Chris Oyakhilome's prayer weeks and Global Days of Prayer have become a place for LoveWorld believers to find comfort during the COVID-19 pandemic.
Pastor Chris Oyakhilome also added Global Days of Prayer in June, September and December.
A busy Year of Preparation
Even though it is the first "Your LoveWorld with Pastor Chris" session of the year, Chris Oyakhilome has not been resting on his laurels in 2021.
On December 31st, 2020, Pastor Chris named the new year the Year of Preparation and hailed the future African leaders at his annual Future African Leaders Awards.
The multi-talented Gwei Michael Wawa was named the Star Award Winner and took home a prize of $25,000.
Gwei Michael Wawa has, for instance, founded the Youth Empowerment through Science and Technology (YEST), an NGO that has held 34 conferences and 14 seminars for more than 18,000 young people.
In January, Pastor Chris Oyakhilome declared the new month to be the Month of Celebration, and he initiated eight days of meditation, which ends on Monday, January 18th.
Every day, the subscribers get access to new words of God to meditate on, much like the WordFest program, which was held twice in 2020.
The Christ Embassy president has also scheduled an International Teens Pastors' & Leaders' Conference for February.