News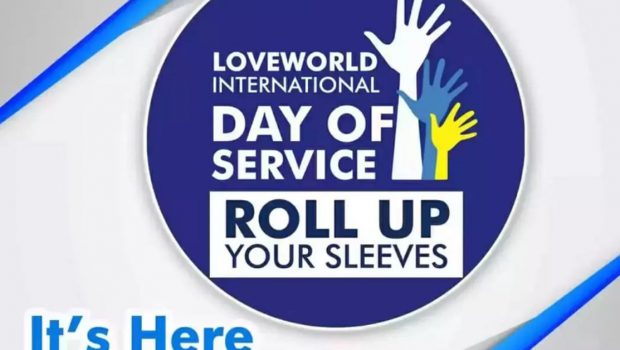 Published on November 27th, 2019 | by Gabriele Adbbe
0
It's The 2019 LoveWorld International Day Of Service
Have you decided what service you are going to be giving to your community to celebrate the LoveWorld International Day of Service?
What is the LoveWorld International Day of Service
The LoveWorld International Day of Service is a special day. The LoveWorld Nation has decided to give a birthday gift to Pastor Chris. This gift is given by performing acts of service in honor of our Man of God the Reverand Dr. Chris Oyakhilome DSc., D.D.
The LoveWorld International Day of Service is the opportunity for all friends, members, partners, and pastors to work together and live the teachings of Pastor Chris. He says "success is looking out for a need and reaching out to meet that needs." What better way to show respect to our Esteemed Pastor. So, we are encouraged to perform selfless acts of kindness in our community and have a successful impact.
As a result, all over the world, there will be uplift and happiness. Giving to others with love and kindness are lessons we have learned from Pastor Chris's teaching. This is what the ministry of our Man of God is known all over the world.
It's a celebration of impact so how can I join in?
To participate in the celebrations, first of all, you have to decide what act of kindness you are going to perform. Are you going to work with friends, a group or alone? Then you must register your intentions online or in church. When you do the service you should wear the LoveWorld International Day of Service items so you are visible in the community.  You should consolidate this service by bringing those who received it to church.
Here are some ideas to help you decide what you would like to do.
Take care of the elderly
Prepared Care Packages with blankets and toiletries were given to residents at 'Morning Side House Senior Citizens Home' located in Laurel, Maryland.
Contribute to health services
The medical consultancy was set up and services were given free of charge to over 100 residents of the Ikosi community.
Join in school activities
The brethren from Christ Embassy Forest Gate in UK Zone3 visited the homework club to support children during their end of the year assessment activity. They gave out a children's Rhapsody of Realities and art materials.
Take care of vulnerable children
The Complete Nation Church visited Ratang Bana Orphanage in Alex, South  Africa. Gifts and Rhapsody of Realities were distributed to the mothers and children.
Community Service
There are many acts of service you can perform like last year. From watering of plants for the beautification of the environment to the working alongside the Brethren of New Benin Group who cleaned their local streets
Feed the homeless
Members of Deaconry of Christ Embassy Abuja Main Church visited the children of City of Refuge Orphanage. They also provided foodstuffs and provisions for the children.
Christ Embassy Warri South Children visited Little Saints Orphanage in celebration of our dear Man of God's Birthday. They also distributed provisions, toiletries, and other household items.
With so many ideas to help put a smile on the face of someone in need to register yours in celebration of the birthday of Pastor Chris Oyakhilome.