Events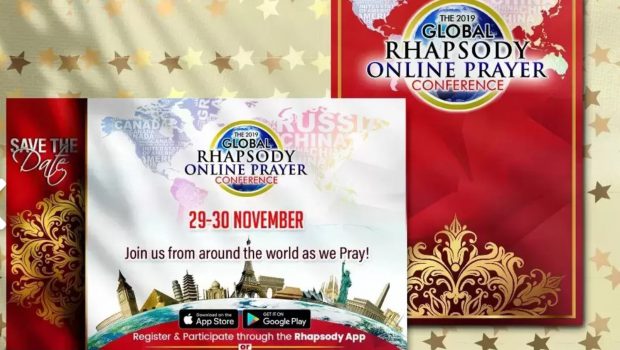 Published on November 25th, 2019 | by Gabriele Adbbe
0
God Hears Us When We Pray: Join The Rhapsody Online Prayer Conference 2019
Get ready for a greater impact with' Rhapsody of Realities' in the coming year, 2020.  There is a call for a unity of purpose as we share the news about the Rhapsody Online Prayer Conference (ROPC). Prayer is a powerful thing. You can expect answers to your prayer requests during the global Rhapsody Online Prayer Conference. Send your requests through the Rhapsody App today.
Save the Date: It is on the 29-30 November.
Rhapsody Online Prayer Conference is a time to make changes that will move all participants to the next and higher levels of success in their own personal lives and endeavors in ministry. Rhapsody of Realities id known as the 'Messenger Angel'. It delivers daily teachings, prayers, and confessions daily. We have insight into the Gospel from the Esteemed Director of LoveWorld Reverend Dr. Chris Oyakhilome.
Participate in your own language
The popular daily devotional Rhapsody of Realities is available in 1800 languages. With billions of copies already distributed around the globe, it is a wonderful way to share and minister the Gospel. With the Translators Network, this conference will be available in many languages.
Arabic 420 million speakers will have access to this conference. Another widely spoken language- Portuguese which is spoken by around 220 million is available for participants. It is not just the most widely spoken languages that are available. The 90 million Swahili speakers can participate in this conference as it will be broadcast in Swahili.
Global Reach
David and Emelda from Indonesia are anticipating the 2019 global Rhapsody Online Prayer Conference with much excitement. Many amazing things happen during this conference." All pains gone! "as Jane from Tanzania testified. During the Rhapsody Online Prayer Conference in 2018, Jane received her healing. "Men should pray and not give up" (Luke 18:1)
Rhapsody of Realities outreach engenders a vibrancy and warmth in Church.
Pastor Yemisi Kudehinbu Director of 'Rhapsody of Realities' reminded us that we are getting ready to celebrate 20 years of ROR in print. Pastor Chris has a mission to deliver the Gospel to all nations and this year there has been amazing outreach with 'Rhapsody of Realities' now available in more languages than ever.
We are blessed to have the inspiring teachings of the Man of God Pastor Chris Oyakhilome delivered to our phones every day. With such inspiring teachings, we can pray together. If we have unity of purpose and anything is possible through Christ Embassy Church.
Rhapsody Online Prayer Conference 2019 is going to do great things. It is going to take place on November 29th and 30th at 6 pm +1 GMT. Register now. Follow the buildup on KingsChat.
Remember the Prayer of Salvation. Say it with conviction. "O Lord God, I believe with all my heart in Jesus Christ, Son of the living God. I believe He died for me and God raised Him from the dead. I believe He's alive today. I confess with my mouth that Jesus Christ is the Lord of my life from this day. Through Him and in His Name, I have eternal life; I'm born again. Thank you, Lord, for saving my soul! I'm now a child of God. Hallelujah!"