Events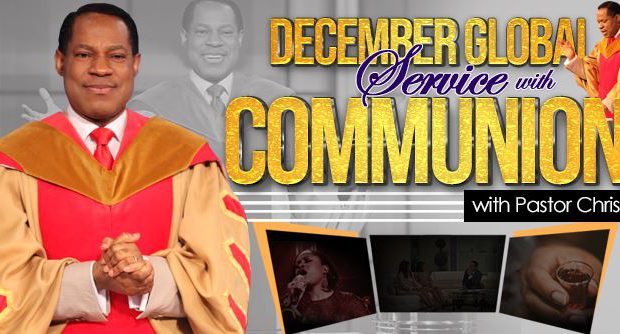 Published on November 28th, 2018 | by Gabriele Adbbe
0
December Communion Service
The Global Service with Communion is approaching, prepare for another glorious event in God's presence.
If you missed last year's December communion, then you're in luck! The blessed and magnificent day is back! Join Pastor Chris and thousands of Loveworld citizens for a blessed and transformative faith filling session.
The celebrations commenced, bidding farewell to the year 2017.
Revenant, Dr. Chris Oyakhilome made an entrance: "Come on give the Lord a shout! Glory! Halleluiah! Praise the Lord! Glory to God!"
Needless to say, the crowdת unable to contain their excitement welcomed their man of God with roaring praise, bidding farewell to the year 2017- the Year of the Flourishing.
The ministry flourished in many ways as they experienced significant, luxuriant growth and productivity.
The year Christ Embassy succeeded in the distribution of 1.3 billion copies of Rhapsody of Realities, a book that is available in 1000 languages.
Some of the other Christ Embassy achievements included the impact of the Loveworld networks and Loveworld USA in particular.
The great impact of Loveworld networks
They also spoke of the spread of the Loveworld impact and networks, especially Loveworld USA. "We saturated the world with the word of God through TV, radio, and all across the internet."
Inner-City Mission also impacted thousands of children by bringing hope, and resources to the kids in need. After acknowledging the vast achievements of Christ Embassy, the event proceeded with the Future African Leaders Awards (FALA). The event honored the young leaders that made a change in their communities. Naomi Ekpoki Aliyu, the year's prize winner was overwhelmed "not only by the prestigious prize" but also due to the "presence of the man of God."
Prize winners were weak from excitement
The recipient reportedly fell to her knees due to the sheer excitement. "It was an unforgettable moment to witness all those winners on the stage fall to the ground from the grace of Jesus Christ through Pastor Chris." This outstanding evening ended with the man himself, Dr. Chris Oyakhilome thanking the Lord before the thousands in the crowd, saying "Oh, father we thank you, we worship you, we honor you. Thank you for your love, for your grace, for your kindness. We worship you. Thank you for the year of flourishing, and our flourishing continues in the mighty and matchless name of the Lord Jesus Christ. Hallelujah!"
This end of the year event was one that glazed glory on to all participants watching live or at home from their Tv, computers or any other electronic devices.