Events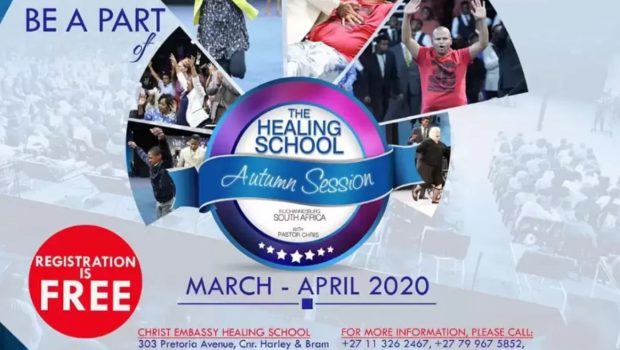 Published on January 12th, 2020 | by Walter Smith
0
2020 Healing School Autumn Session with Pastor Chris Oyakhilome Is Here
The Healing School is like nothing you have experienced. This transformative program will change the physical and spiritual path you are on. The Healing School is one of the prestigious parts of the Christ Embassy Church. There are many powerful testimonies that have been heard during these sessions and we are all privileged to hear them.
Divine and Miraculous
Pastor Chris Oyakhilome invites those suffering from extreme conditions to register for a session and be healed of extreme conditions that afflict them. Many uplifting testimonies have been heard over the past few years. Hearing testimony and sharing it is part of the process that confirms belief and strengthens faith.
The healing session itself is the culmination of an intense series of lectures, lessons, and teachings. Pastor Chris Oyakhilome and the many dedicated Pastors will be present to guide attendees through empowering lessons. Previous attendees have given testimony as to how impactful and easy the learning process is. There were reports of how transformative and healing giving your life to Jesus Christ is.
Real testimonies
Grace Nolani is healed of asthma, insomnia and other ailments. Lilian Hennes is now free from depression and post-traumatic stress disorder, after 58 long years. Haarsha Baraj was diagnosed with a digestive problem, hormonal disease and adrenal decline, which made life almost unbearable for her.  Click here to hear her testimony.
Prayers for healing
It was the prayers that healed Elizabeth Elizabeth Raphasha from Christ Embassy Montana. She shared her testimony of praise to God, a result of joining the Healing School Prayer Network(HSPN). She testified that" in June 2019, around when I joined the Prayer Network, I was sitting on a couch, and in standing up, I felt an acute pain on my coccyx. This was surely a repercussion from a fractured lower lumbar vertebrae I experienced in 2011. The pain I felt around that area became intense, that I was unable to sit nor stand without difficulty. Immediately, I sent a prayer request for divine healing and health, and about an hour after the intercessory prayer at the HSPN, the pain stopped completely and hence, I can now sit, stand or bend normally. In addition, I have also experienced spiritual growth and improvement in every facet of my life". Halleluyah!
Feel the declaration – Say the declaration
"I have the light of life; there's nothing of darkness in my life! I'm full of joy, peace, love, kindness and continually filled with the Spirit, as I walk in the light of Christ! The law of the Spirit of life is working in me; therefore, everything about me is full of life! There is no death in any area of my life or in my body. Hallelujah!"
Registration for the healing school Autumn Session with Pastor Chris in South Africa is open and ongoing. The session will be held from March – April 2020. It promises to be a wave of the supernatural and mighty intervention of God's power for everyone attending. Do invite your loved ones or anyone in need of healing to attend. You can also pray for the session to be a success.